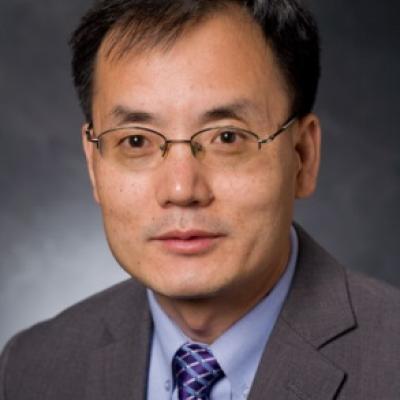 Contact Info
Office:
354 Wilson Pharmacy Building
Lab Office:
340, 342, 335 Wilson Pharmacy
Research

Research Interests:

My research group works on the forefront area of chemistry, biology and medicine related to epigenetics. In the post-genomic research era, there has been a great shift in focus from simply collecting and archiving genomic data to dissecting and interpreting complex genomic/proteomic functions and networks. We are particularly interested in addressing critical problems and challenges in the rapidly evolving field of epigenetics that usually describes gene expression profile changes that are irrelevant to genomic sequence. Mounting data show that epigenetic processes play pivotal roles in transforming normal cells into malignant tumors and in various other pathologic conditions. Abnormality in epigenetic landscape presents characteristic biomarkers for disease diagnosis. The importance of epigenetic regulation in disease initiation and evolvement also signifies a new flow of challenges and opportunities to disease research and pharmaceutical discovery. Therefore, identifying key chromatin regulatory factors such as histone modifying enzymes and chromatin remodeling complexes, understanding their activity, specificity and functional roles, and inventing potent and selective drug compounds embody demanding needs in today's biology and pharmaceutical research. My lab is innovating and applying advanced chemical and biological strategies, tools and agents to elucidate functions of epigenetic enzymes in disease mechanism and meanwhile provide new diagnostic and therapeutic regimens. The lab adopts an interdisciplinary approach, spanning and integrating organic chemistry, medicinal chemistry, bioorganic chemistry, molecular biology, biochemistry, enzymology, cellular biology, biophysics and bioinformatics, and a wide range of techniques are employed. Current active research areas include: (1) screen, design, synthesis, and pharmacologic study of potent epigenetic therapeutics, (2) creation of chemical probes to understand protein acetylation and novel lysine acylations, and (3) mechanistic and functional study of protein arginine methylation.
Selected Publications

Selected Publications:

Qian, K. and Zheng, Y. G. (2014) Labeling: Palladium brings proteins to life. Nature Chem Biol. 10, 328-330.

Yan, L., Yan, C., Su, H., Qian, K., Wofford, S., Lee, W., Zhao, X., Ho, M., Ivanov, I. and Zheng, Y. G. (2014) Diamidine Compounds for Selective Inhibition of Protein Arginine Methyltransferases. J Med Chem, 57, 2611-2622.

Yang, C., Ngo, L., Zheng, Y. G. (2014) Rational Design of Substrate-Based Multivalent Inhibitors of Histone Acetyltransferases. ChemMedChem. 9, 537-541.

Zhang, R., Li, X., Liang, Z., Zhu, K., Lu, J., Kong, X., Ouyang, S., Li, L., Zheng, Y. G. and Luo, C. (2013) Theoretical insights into catalytic mechanism of protein arginine methyltransferase 1. PLoS One. 8, e72424.

Xu, J., Liu, J., Wang, A. H., Oses-Prieto, J., Makhijani, K., Pei, M., Kastuno, Y., Leilei, Y., Zheng, Y. G., Burlingame, A., Brückner, K., Derynck, R. (2013) Arginine methylation initiates BMP-induced Smad signaling. Mol Cell. 51, 5-19.

Yang, C., Mi, J., Feng, Y., Ngo, L., Gao, T., Yan, L. and Zheng, Y. G. (2013) Labeling lysine acetyltransferase substrates with engineered enzymes and functionalized cofactor surrogates. J Am Chem Soc. 135, 7791-7794.

Gao, T. Yang, C., and Zheng, Y. G. (2013) Comparative studies of thiol-sensitive fluorogenic probes for HAT inhibitor screening. Anal Chem Biochem. 405, 1361-1371.

Yang, C., Wu, J., Sinha, S., Neveu, J. M. and Zheng, Y. G. (2012) Autoacetylation of the MYST Lysine Acetyltransferase MOF. J Biol Chem. 287, 34917-34926.

Wang, J., Chen, L., Sinha, S. H., Liangb, Z., Cai, H., Muniyanf, S., Chou, Y., Yang, C., Li, K., Lin, M., Jiang, H., Zheng, Y. G. and Luo, C. (2012) Pharmacophore-Based Virtual Screening and Biological Evaluation of Small Molecule Inhibitors for Histone Arginine Methyltransferases. J Med Chem. 55, 7978–7987.

Sinha, S. H., Owens, E., Feng, Y., Yang, Y., Xie, Y., Tu, Y., Henary, M.* and Zheng, Y. G. (2012) Synthesis and evaluation of carbocyanine dyes as PRMT inhibitors and imaging agents. Eur J Med Chem. 54, 647-659.

Ni, T., Laughlin, S., Wang, Y., Feng, Y., Zheng, Y. G. and Wang, B. (2012) Probing the general time scale question of boronic acid binding with sugars in aqueous solution at physiological pH. Bioorgan Med Chem. 20, 2957-2961.

Yang, C. Wu, J. and Zheng, Y. G. (2012) Function of the Active Site Lysine Autoacetylation in Tip60 in Catalysis. PLoS ONE. 7, e32886.

Gao, T. and Zheng, Y. G. (2012) The fluorescence-based acetylation assay using thiol-sensitive probes. Methods Mol Biol. 981, 229-38.

Ghizzoni, M., Wu, J., Gao T., Haisma, H. J., Dekker, F. J. and Zheng, Y. G. (2012) 6-alkylsalicylates are selective Tip60 inhibitors and target the acetyl-CoA binding site. Eur J Med Chem. 47, 337–344.

Yuan, H., Rossetto, D., Mellet, H., Dang, W., Srinivasan, M. Johnson, J., Hodawadekar, S., Ding, E. C., Speicher, K.,  Abshiru, N., Perry, R., Yang, C., Wu, J., Zheng, Y. G., Speicher, D. W., Thibault, P., Verreault, A., Johnson, F. B., Berger, S. L., Sternglanz, R., McMahon, S. B., Jacques Côté, J., Marmorstein, R. (2012) MYST Protein Acetyltransferase Activity Requires Active Site Lysine Autoacetylation. EMBO J. 31, 58-70.

Wu, J., Xie, N. and Zheng, Y. G. (2012) Scintillation Proximity Assay of arginine methylation. J Biomol Screen. 17, 237-244.

Li, K., Luo, C., Wang, D. and Zheng, Y. G. (2012) Chemical and biochemical approaches in the study of histone methylation and demethylation. Med Res Rev. 32, 815-867

Feng, Y., Xie, N., Jin, M., Stahley, M. R., Stivers, J. T. and Zheng, Y. G. (2011) A transient kinetic analysis of PRMT1 catalysis. Biochemistry. 50, 7033–7044

Wu, J., Wang, J., Li, M., Yang, Y., Wang, B. and Zheng, Y. G. (2011) Small molecule inhibitors of histone acetyltransferase Tip60. Bioorg Chem. 39, 53-58

Feng, Y., Wang, J., Asher, S., Hoang, L., Guardiani, C., Ivanov, I. and Zheng, Y. G. (2011) Histone H4 Acetylation Differentially Modulates Arginine Methylation by an In Cis Mechanism. J Biol Chem. 286, 20323-20334

Wu, J. and Zheng, Y. G. (2010) Synthesis of H4 pantetheine adducts for histone acetyltransferase inhibition. Heterocycl Commun. 16, 231-234

Feng, Y., Li, M., Wang, B. and Zheng, Y. G. (2010) Discovery and Mechanism of a Type of new PRMT inhibitors. J Med Chem. 53, 6028-6039